TRANSISTORS


Transistors are probably the post important electrical component created. After all computers tend to have billions of them. But not just computers, almost everything today that is remotely electrical probably has them. Your car, your washing machine, your microwave. The list goes on.

But transistors are somewhat complicated in theory, and especially calculation. Plus it is my firm opinion that they are outdated technology. So for robotics what you should use is something similar to a transistor called a MOSFET, or Metal Oxide Semiconducting Field-Effect Transistor.

MOSFETs


The operational theory required to use a MOSFET is not much different from a simple mechanical on/off switch. But instead of flipping a switch, you apply a binary signal to it straight from your microcontroller. Apply a 0 (for zero volts) to the Gate (or Base) and it is turned off, apply a 1 (for usually 5V or more) and it is turned on. It is somewhat like a water spicket. By turning a small valve, you can control huge flows of water through a pipe.
If a transistor is turned on, current will flow from the Collector to the Emitter. If the N-channel MOSFET is turned on, current will flow from the Drain to the Source. Yes, the names are counter intuitive. What makes transistors more complex is that Collector to Emitter current is not just dependent on Base voltage but also on Base current. All quite complicated . . . then you got Darlington Pairs which are just crazy and stuff . . . MOSFET's are just simple on and off. There is however MOSFETS designed for various applications. But usually a PWM optimized MOSFET would be what you want.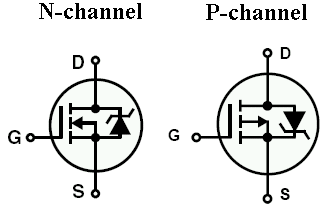 Another note on MOSFETS, they are more efficient with higher Gate voltages. So you probably do not want to just apply a simple binary 5V. Instead you should amplify it with say an operational amplifier or even better, a MOSFET Driver IC. All are quite cheap and easy to implement. I highly recommend amplifying the Gate voltage because it would save on battery power, and significantly reduce overheating. Which reminds me of another point . . .
DONT FORGET TO PUT A HEAT SINK ON ALL POWER MOSFETS!!!!!!!
They heat up pretty quick and burn you when you touch them. A typical MOSFET is rated for about 300F, but its quite easy for them to reach that temperature.
So what can you use a MOSFET for? Well it is required for an H-Bridge. Also, the concept works for DC Motor Braking.