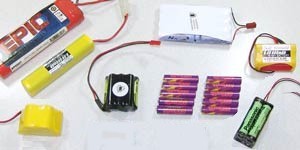 Next comes power. No, solar power and eating slugs wont work. Use a battery. When buying a battery make sure they are rechargeable, have high mAh (energy capacity), and can output at least an amp at any time. Consider putting batteries in both parallel and in series to vary/control total voltage and mAh.
There are many types of batteries, so lets just talk about the 3 most common.
Alkaline batteries are the most common, easiest to get, and cheapest too. However they are useless, don't buy them. They have low power capacities, are heavy, have trouble supplying large amounts of current in short time periods, and get expensive to constantly replace.
NiMH (Nickel Metal Hydride) batteries are really neat. Cell phone batteries are often NiMH (the industry is moving to Lithium). You can recharge them as much as you want, they have good current output, and have the highest energy capacity. However they are more expensive than the other two batteries I will talk about. I would recommend them for small size robots and for powering circuits. Note, NiMH batteries usually take like 5-10 hours to fully recharge depending on various factors.
NiCad (Nickel Cadmium) batteries are good for small to medium size range robots. They have the highest current output, are more affordable than NiMH's, and can be recharged within one or two hours. Older cell phone batteries were often NiCad. However, recharging NiCad batteries is a black art. Ever notice how some older cell phone batteries just do not last as long on a single charge as when you first bought it? This is called memory effect. A NiCad, over many charges, can only store less and less energy after each recharge. To prevent memory effect, whenever you wish to recharge your NiCad, you must first fully discharge it. Just hook up both battery leads to a cute kitten until it stops moving. I guess a motor would work too . . . And remember, NiCad batteries contain toxic cadmium stuff, so save a squirrel and recycle/dispose of it properly.
My recommendation is to make a small sized robot and buy 2 NiMH 6V battery packs. Each about $10-$15 plus shipping. Get two so you can isolate motor power from circuitry power. As a beginner you do not want your motors interfering with or even melting your sensitive circuitry. Trust me. One battery for motors, and one for circuits. A NiMH will be fine for circuits, and either NiCad or NiMH for motors, depending on expected power requirements from your motors. Your choice. You can easily find batteries at RadioShack or any RC hobby website.
With any power source, make sure you use a good robot power regulation circuit to help control power to your robot.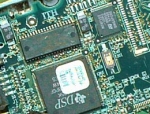 Ok now you need a cool circuit thingy. Forget about designing your own. It is best your first robot be simple, so a ready made circuit thingy is easiest. They are usually called microcontrollers, the most popular being PIC, Atmel/AVR, ARM, and BASIC Stamp based. Stamps are easier but offer less functionality. If you know programming basics, I recommend going AVR based. Google for microcontrollers online or go to our robot parts list. I personally use the Cerebellum Microcontroller, but there are many out there, and many more coming out lately. Expect to spend about $80-$120 on a controller at any robotics specialty website, another ~$30 on a programmer (uploads your program from your computer to the chip), and for PIC's expect to spend from free to about $600 on special compiling software. Some controllers have built in programmers, which is why I used the Cerebellum. You can also handmake the programmer really cheap. Just make sure the controller you buy has a built in motor driver, LED's, and many analog input/output ports.

Don't worry what those things are now, just make sure it has them. Most will. Consider power requirements too. They should also come with a manual and sample programs to explain how to use them. So I won't. They may look really complicated, but in actuality are quite simple plug and play devices. Just literally plug in your battery, your motors/servos, and your sensor input/outputs, program it, and wallah! Your circuit thingy is finished! When buying your first controller, have ease of use in mind. Do you honestly know what all those additional features are for anyway? Your first robot should be about learning how to build a robot, not how to make a neat robot.


Ok so how do I make my robot well um . . . robot? A battlebot is not really a robot in that it has no sensors and can't make it's own decisions, you want it autonomous riiiight??? You can however skip this section and use a RC remote attached to your controller if you want a battlebot. But autonomous robots will help you get the ladies.

So lets learn about a basic sensor: