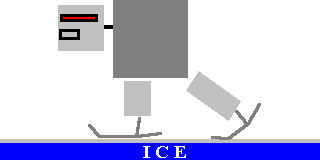 Friction
Calculating friction is often a black art. There are many situations which are hard to factor in such as surface tension, humidity, etc. But there are several sure ways to find a reasonable value to help you build your robot. The first thing you should look at is what is called the coefficient of friction. This is a dimensionless property which can be looked up for any two materials. What does this number mean? Well suppose you are standing on ice with rubber shoes and you want to calculate the pushing force required to slide across the ice.
force of friction = weight * u.rubber-ice
Just multiple the force being applied perpendicular to the contacting materials (your weight) and multiply that by the coefficient of friction of ice against rubber. This would be the force required to counter friction to slide across the ice.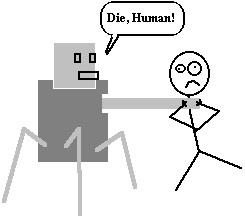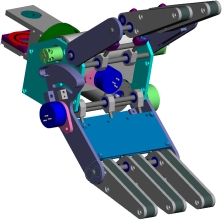 Understanding friction is also useful when designing robot pincers. If the friction is miscalculated, your robot victims would be able to escape! Now we cant have that . . . So here is how you do it. A robot pincer squeezes from both sides. So this is your force. The typical human however wants to fall down out of your robot pincers by gravity.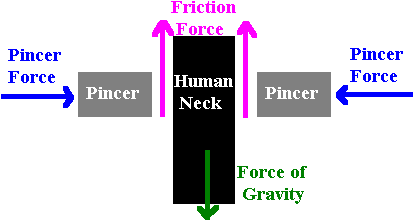 Now all you need to do is squeeze hard enough so that the force of friction is greater than the force of gravity.
force_squeeze * u.pincer-human_neck > human_weight
You probably won't find a reliable coefficient of friction for robot pincers rubbing up against a human neck, but using higher friction pincer material will help.
Actually, finding the coefficient of friction can be a little more complicated. There are actually two coeffiecients. It turns out that friction is related to the rubbing velocity of the materials. Ever notice how it is easier to push a heavy object across the ground after it is already moving?
The static coefficient of friction is when the materials are stationary.
The kinetic coefficient of friction is when the materials are already in motion against each other. What makes it a black art is that there is never any exact clear boundary between the two values.
Here is a quick coefficient of friction lookup reference of some common materials you may use:
Material 1
Aluminum
Aluminum
Plexiglass
Plexiglass
Polystyrene
Polystyrene
Polythene
Rubber
Rubber
Rubber
Rubber
Teflon
Teflon
Wood
Wood
Wood
Wood
Wood
Wood
Material 2
Aluminum
Steel
Plexiglass
Steel
Polystyrene
Steel
Steel
Asphalt (dry)
Asphalt (wet)
Concrete (dry)
Concrete (wet)
Steel
Teflon
Wood (clean)
Wood (wet)
Metals (clean)
Metals (wet)
Brick
Concrete
Static
1.05 - 1.35
0.61
0.8
0.4 - 0.5
0.5
0.3 - 0.35
0.2
0.5 - 0.8
0.25 - 0.75
0.6 - 0.85
0.45 - 0.75
0.04
0.04
0.25 - 0.5
0.2
0.2 - 0.6
0.2
0.6
0.62
Kinetic
1.4
0.47
-
-
-
-
-
-
-
-
-
-
-
-
-
-
-
-
-
---
---