Wheatstone Bridge
The typical strain gauge has a VERY LOW change in resistance when bent. So to measure this change in resistance, several tricks are applied. There is a ton of theory on this so I wont go into how it works, but basically a neat circuit invented in the 1800's can be used to easily amplify this difference. These circuits are built into all load and torque sensors so you do not need to be concerned with how they work, just how to use them. The strain gages inside the force transducer, usually a multiple of four, are connected into a Wheatstone bridge configuration in order to convert the very small change in resistance into a usable electrical signal. Passive components such as resistors and temperature dependent wires are used to compensate and calibrate the bridge output signal. Anyway, most force transducers have four wires coming out of them, so all you need to do is attach them as prescribed here:
Note that the wire colors are usually red, black, green, and white, and that some manufacturers for some lame reason use the red and black wires for signal and not for power. You will probably need to further amplify the signal a factor of another few thousand, but that can easily be done with a voltage difference amplifier. Your output will give you a negative voltage for one direction of force, and a positive voltage for the opposite direction. If you are measuring voltage with an oscilliscope or multimeter, this is easy to measure. But for a microcontroller, you cannot have any negative voltage output. A microcontroller can only read 0V to 5V. As a solution, use a 2.5V voltage regulator for ground of your force transducer, and a 7.5V ~ 8V voltage regulator for power to your force transducer. This will effectively shift the output voltage to 2.5V neutral output to your microcontroller. Your range should be between 0 and 5V. To limit your sensor within that range, experiment with your amplifier gain.



Costs
Unfortunately force transducers are on the expensive side. Expect to spend between a few hundred to a few thousand dollars each. There are many different types of sensors, of different dimensions and capacities and qualities, from a large variety of companies. Check the ad window on the top right of this page for several force transducer companies. Know that some companies hire actual engineers for tech support, some don't. Actual conversation I once had: "I have some technical questions, are you an engineer?" "Ummm, I don't have a degree in engineering, if that is what you mean. But I think I can help you." Surprisingly, some companies do not actually include a spec sheet (Certificate of Calibration) with their sensor, so you have no idea what the voltage-torque curve is! Insist on getting one, or expect to spend hours testing and graphing when you get your sensor.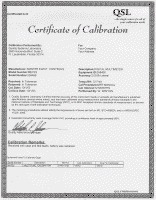 Don't make your choice on sensors based solely on price - cost of ownership is more important too. Maintenance costs, recalibration time, possibility of failure, etc should all be factors. As a side comment, there are ways to make your own force transducers if your too poor, but that is outside of the scope of this tutorial. So if you think buying a force transducer is for you, continue reading.
---
---

Capacity Selection
Force overload is the primary reason for transducer failure, although the process of selecting the right force capacity looks easy and straight forward. There are several terms you must understand to properly select for load capacity:

The measuring range is the range of values of mass for which the result of measurement is not affected by outer limit error.

The safe load/torque limit is the maximum load/torque that can be applied without producing a permanent shift in the performance characteristics beyond specified.

The safe side load is the maximum load that can act 90 degrees to the axis along which the transducer is designed to be loaded at without producing a permanent shift in the performance beyond specified.

A force transducer will perform within specifications until the safe load/torque limit or safe side load limit is passed. Beyond this point, even for a very short period of time, the transducer will be permanently damaged.

Capacity Selection, Derating
Unfortunately you cannot just rate your transducer by static forces alone. There are many additional issues you must be concerned about:
Shock loading (sudden short term forces)
Dynamic influences (momentum)
Off centre distribution of force
The possibility of an overload weight/torque
Strain Gauge Fatigue (constant use and wear)
Cable Entry Fatigue (the output wire bending a lot)
If there is a possibility that any of these may occur, you must then derate your force sensor (use a higher capacity). For example, if you expect a high fatigue rate, you should multiply your required capacity by two. Make sure you understand what you are measuring so that you do not waste money on a soon-to-be-broken force transducer. Over time, you may want to recalibrate your sensor occasionally in case of long term fatigue damage.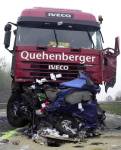 Damage
Because force transducers are expensive, preventing them from being damaged should be a high priority. There are many ways to damage a transducer. Shock, overloading, lightning strikes or heavy surges in current, chemical or moisture ingress, mishandling (dropping, pulling on cable, etc.), vibration, seismic events, or internal component malfunctioning to name a few. If your sensor becomes damaged, don't just re-calibrate it. Mechanical failure may have catastrophic effects and you will no longer have a reliable sensor.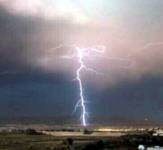 Lightning
"Investigations indicate that a lightning strike within a 900ft radius of the geometrical centre of the site will definitely have a detrimental effect on the weighbridge." In most cases, the actual damage is a direct result of a potential difference (1000+ volts) between the sensor circuit and sensor housing. If lighting strikes commonly happen near your area, make all grounds on your circuit common so the voltage floats together - and use surge protectors! And of course, no electric welding should be done near your sensor (hey, it has happened).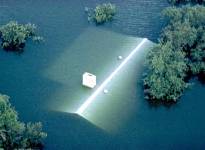 Moisture
Obviously, water and electronics do not mix. Force transducers are always sealed to keep out the elements, however moisture/condensation damage occurs from a slow seeping over a long period of time. The damage can be multiplied when acids or alkalines are present. The most likely entry area for moisture is at the cable entry point, so it is important to keep this area protected more than any other. Manufactures employ many techniques to seal it off, but there are additional techniques you the user can also employ. Know that often temperature changes can cause a pumping action to occur, pushing moisture down the inside of the cable. Entry also can be via a leaking junction box or through a damaged part of the cable. This can take some time to reach critical areas, but once there it will become sealed in place and do critical damage.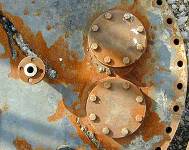 Corrosion
The effects of corrosion on your force transducer will be the result of both the manufacturing quality and the environment in which the sensor is used. Make sure you understand how likely your choice in transducer is likely to corrode over time. Consider the metal type of the outer casing, the surface finish, the weld areas, thickness/quality of moisture seals, and cable material (PVC, PUR, or teflon). Also understand the environment - salt water, for example, has different corrosion effects depending on the local circumstances. Stainless steel in stagnant salt water is subject to crevice corrosion (a regular wash down is necessary to avoid degradation). Don't assume stainless steel means "no corrosion, no problem and no maintenance". In certain applications, painted or plated load cells may offer better long-term protection. An alternative is wrap-around protective covers. These can provide good environmental protection, but can be self destructive if corrosive material is trapped inside the cover. Sealing compounds and rubbers used on some transducers can deteriorate when exposed to chemicals or direct sunlight. Because they embrittle rubber, chlorine-based compounds are a particular problem. Always make sure you keep your sensor maintained and clean to avoid corrosion.

Installation
There are several considerations that are often forgotten during the mounting of force transducers. For example, it is a common misconception that a force transducer can be considered as a solid piece of metal on which other parts can be mounted. The performance of a force transducer depends primarily on its ability to deflect repeatably under conditions when load/torque is applied or removed. Make sure all supports are designed to avoid lateral forces, bending moments, torsion moments, off center loading, and vibration. These effects not only compromise the performance of your force transducer, but they can also lead to permanent damage. Also, consider self aligning mounts.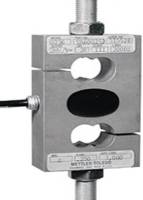 The S-Beam Load Cell Changes Shape Under Load

Force Transducer Cables
Special attention should be paid in preventing the transducer cable from being damaged during and after installation. Never carry transducers at their cables and provide dripping loops to prevent water from running directly into the cable entry. Don't forget to provide adequate protection for the cable, near the sensor if possible. Load cells are always produced with a four- or six-wire cable. A four-wire cable is calibrated and temperature compensated with a certain length of cable. The performance of the load cell, in terms of temperature stability, will be compromised if the cable is cut; never cut a four-wire load cell cable! 6 wire cables can be cut, but all wires must be cut evenly to avoid any differences.

Extras
What I have talked about is actually a very watered down tutorial for force transducers. If you would like to learn more, read the advanced load cell tutorial. I didn't write it, so good luck!

You may also be interested in the data logging tutorial so that you can log your force/torque sensor data effectively.
---
---